Tim Baltz & Lily Sullivan: TIM & LILY - classic Comedy Bang! Bang! w SCOTT AUKERMAN & 13 guest stars
14041
67
163
26.06.2022
4078108
9980
459
05.01.2013
AU
A selection of episodes of Scott Aukerman's 'Comedy Bang! Bang!' featuring Tim Baltz and Lily Sullivan, with guests Flula Borg, Kristian Bruun, Shaun Diston, Jon Gabrus, Zach Galifianakis, Nick Kroll, Lauren Lapkus, Jason Mantzoukas, Andy Richter, Adam Scott, Nick Thune and Paul. F. Tompkins. CONTENTS (spoiler alerts): 00:00:00 OPENING CREDITS - 'Tim & Lily's Song', music Irving Berlin ('Play a Simple Melody'), lyrics and vocal, BFB. 00:01:49 - CBB 591 (part 1) with FLULA BORG, SHAUN DISTON (Sprague the Whisperer) and LILY SULLIVAN as Kayla Dickie 00:06:44 - CBB 577 with FLULA BORG, SHAUN DISTON (Sprague the Whisperer) and LILY SULLIVAN as Kayla Dickie 00:38:50 - CBB 591 (part 2) with FLULA BORG, SHAUN DISTON (Sprague the Whisperer) and TIM BALTZ as Jud Wiebe and LILY SULLIVAN as Kayla Dickie 01:31:47 - CBB 394 with ZACH GALIFIANAKIS, LAUREN LAPKUS (Todd) and TIM BALTZ as Don Darling 02:13:01 - CBB 609 with ANDY RICHTER and LILY SULLIVAN as Donna Sticks 02:37:22 - CBB 403 with ADAM SCOTT and TIM BALTZ as Randy Snuts (aka Randy Snutz) 03:17:34 - CBB 622 with SHAUN DISTON (Rudi North), JASON MANTZOUKAS and TIM BALTZ as Darren Matichek and LILY SULLIVAN as Virginia Patricia 04:04:49 - CBB 639 with NICK KROLL, ANDY SAMBERG and LILY SULLIVAN as Becky and Shannon 04:34:57 - 2016 Tour: Toronto (pt. 1) with LAUREN LAPKUS (Mizz Chips), PAUL F. TOMPKINS (Cake Boss) (Cake Boss) and TIM BALTZ as Nathan Hershey 05:01:41 - CBB 676 with JON GABRUS, NICK THUNE and LILY SULLIVAN as Francesca Bolognese 05:16:20 - 2016 Tour: Toronto (pt. 2) with KRISTIAN BRUUN, LAUREN LAPKUS (Todd), PAUL F. TOMPKINS (Garry Marshall) (Cake Boss) and TIM BALTZ as Guy Le Biscuit 05:39:22 - CBB 691 with SHAUN DISTON (Mike Ruby) and TIM BALTZ as Randy Snuts/z and LILY SULLIVAN as Diana Deep 06:57:25- CLOSING CREDITS - 'Freeze-Frame' performed by The J. Geils Band* with Scott Aukerman and Tim Baltz * The J. Geils Band (from Massachusetts, not Canada, in case you were wondering), formed in 1967 and released TWENTY-THREE singles between 1969 and 1980. Apart from 1974's 'Must Of Got Lost' which reached no. 12 on the US chart (27 in Canada & 72 in Oz and that's it), nothing from the band set the world on fire until 1982's number 1 hit in the US, Canada and Oz (Belgium no.2, UK no. 3). If you weren't around in '82 it's hard to describe the non-stop airplay 'Centerfold' received. For a month or so, it was all you heard. And I should know. I was one of the jocks playing it. EVERY THREE HOURS. High rotation. It kills a DJ's love of songs. In the beginning, you are rapt to see a newie on your log... "Cool, 'Centerfold'!", but in about two weeks, it's become "Eww, Centerfold!" But I never tired of The J. Geils Band's next (and only other) hit, 'Freeze-Frame' (US no. 4, Canada no. 2, Oz no.7). The station I worked at moved into new studios in 1982 just in time for this song's release. The brand-spanking, state-of-the-art on-air studios had multi-coloured lights that could be set to pulsate in time to the music (I'm aware most Bluetooth speakers do that but then it was a novelty, kids). It was a (failed) maneuver to put we jocks "in the mood", but after a month or so the novelty wore off and if we used the lights at all we set them to dissolve from colour to colour. BUT, I do remember having lights and music going full bore when I played 'Freeze Frame'. I don't know why it moves me so, but I would jump around the studio to it like an idiot. Just as I did 40 years later, when I made this!
Кадры из видео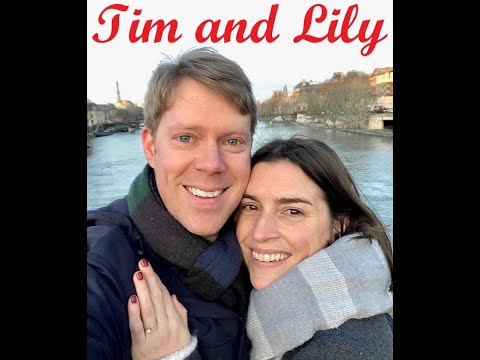 Комментарии пользователей:
Adam Leach
2023-02-07 05:04:21
Listening to Lauren laugh uncontrollablely made me so happy
ziggy j
2023-01-15 14:57:31
just found CBB about 3 months ago. by way of Anders Holm episode. (his second feature) And Sean Diston KILLING it as Scruff McGruff.
Bonny Prince Billiam
2023-01-02 09:52:38
Lily Sullivan is the best part of the best ofs
Rob Picken
2022-12-31 06:23:28
Your intro song is awesome. Thanks for the edit
Tim is marrying Lily for her feet. Yeah,yeah,yeah,yeah
Gordon Dunkin
2022-11-06 10:04:16
Bro honestly, I must have listened every CBB episode almost three times, not to mention replays of my favourites. I have had premium stitcher for years and cbb world since it started, CBB is life for me. These compilations have changed the game for me though, now I don't need to listen to all the plugs etc again… straight to the good bits, much appreciated 🙌
My Proxy Bloviator
2022-10-23 02:31:44
I thought Bed Bath and Beyonda was selling a wishing machine with hair in it Could you use your first wish to get the hair out of it?
Ryan Hodgetts
2022-10-16 04:12:28
Beardy Does It
Annette
2022-10-12 08:45:48
Do you have a Kofi or some such for us to drop you a few $ for your work on these? I listen when I can't sleep and I'm so grateful to you for the compilations
Spencer O'Neill
2022-09-23 02:18:10
Has a new comic come on as fucking fire as Lilly has? I fucking know i'm in for a wild trip when I see she's on an episode. Makes perfect sense her and Tim had a connection.
These two are so fun, great to see them celebrating the end of Roe v Wade youtube.com/results?search_query=%23greatdayforbabies #greatdayforbabies
Punching Pixels
2022-07-15 05:11:07
what a lovely song, definitely not going to be stuck in my head for the next forever.
(just learned we have the same name, what's up fellow CBBBrendan?)
GlitchOut
2022-07-12 22:55:07
the 'Jud Wiebe trail' story was what convinced me the show was hilarious back in the day. Ty for the comps.
Ian O'Brien
2022-07-08 20:18:24
Less than Jake but Better than Ezra... the eternal gulf.
Ian O'Brien
2022-07-08 03:28:55
When I was 8 I loved J. Geils Band. Centerfold and Freeze Frame were huge that year. lol
tomhchamp
2022-07-07 20:24:18
I just realized there's a "deez nuts" in Randy's name and they never called direct attention to it lol wow
dudidosch
2022-06-30 21:48:43
Lily Sullivan: Clear Mvp of CBB the last couple of years for me at least! Thanks for the video mate
BabyFaceBren
2022-06-30 15:19:50
RPMY4fDiXMs&t=9m32s 9:32 - that's what you call burying the lead (but not too deep ;-)
Haris Chaudhry
2022-06-30 13:44:14
RPMY4fDiXMs&t=6m54s 6:54